Advanced Nutrition Programme Skincare Supplement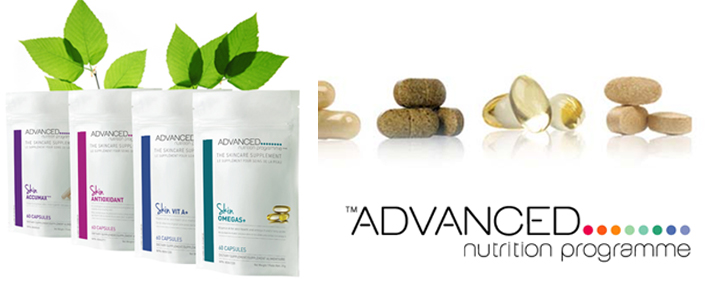 Le Petit Spa is an authorized reseller of the Advanced Nutrition Programme skin care supplements and believes in this results oriented skin care supplement line. Our customers rave about the results and we are proud to sell this brand and support our customer's choices. Advanced Nutrition Programme was founded on a simple idea —good nutrition is the route to beautiful skin and a healthy body. They have formulated a range of supplements using the finest sustainable, ethically sourced ingredients —Free from all additives and fillers. 100% pure!
Advanced Nutrition Programme supplements offer a simple building block approach where each product is designed to work independently on a skin concern or in combination to target specific skin issues. By combining superior nutrition with superior skincare, results can be be seenin the shortest period of time. The Advanced Nutrition Programme effectively targets the root of problem skin by capturing the best high quality ingredients into a capsule form and educating consumers on the importance of enhancing natural beauty from within.
Experiencing acne breakouts, hormonal breakouts, or just conjested skin regularly? The Skin Accumax will solve your problems! Give your skin the nutrients it needs to shine beautifully from the inside to out. Skin Omegas+, packed with Vitamin A, Omega fatty acids, and fish oils, helps revitalize dry and sensitive skin types and protect the skin from further damage. If you are looking for double the effectiveness, Skin Complete is comprised of two vitamins - Skin Vitamin A+ and Skin Antioxidant. This duo is a miracle treatment for aging skin, hyperpigmentation, and scarring.