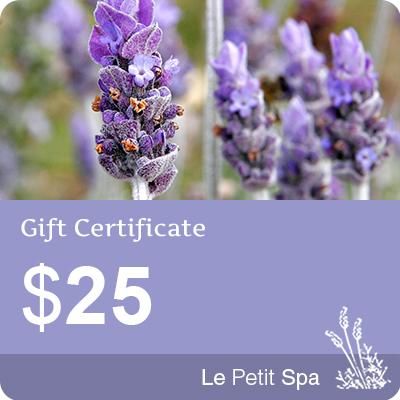 $25 Le Petit Spa Gift Certificate
Le Petit Spa Brand Products
ITEM GC25
Choose your own denomination and enjoy products or services of your choice at Vancouver's Le Petit Spa.
Please note: Denomination gift certificates may or may not cover the full price of the service(s) that the recipient may choose to receive at Le Petit Spa. Gratuities cannot be added to gift certificates.
Please allow up to 2 business days for gift certificates to be processed. All purchases of gift certificates are sent via email to the email address provided. We do not mail out physical gift cards.
If you would like to include the name of the recipent on the gift certificate, please include it in the comments box in the ordering process.
Le Petit Spa gift cards can be purchased online for in spa use and balances are conveniently tracked online.
This gift certificate covers the entire cost of the service, taxes included. Gratuities cannot be added to gift certificates.
Sales tax will not be applied to Gift Card purchases. If other merchandise is included in your order, tax will apply only to those items.
Le Petit Spa will not be responsible for lost or stolen Gift Cards. The Le Petit Spa Gift Cards are non-refundable and cannot be transferred, exchanged, resold or redeemed for cash.
Gift Cards are excluded from all promotional discounts.