LHE Hair Removal Vancouver
Affordable Laser Hair Removal Alternative by LHE Kona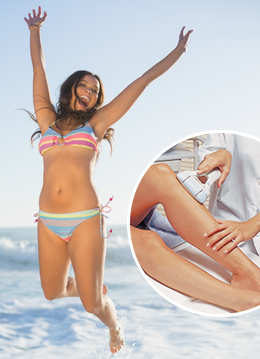 Unwanted hair, meet LHE Kona Hair Removal. Tested in top spas and medical offices, LHE hair removal is simple, fast and can leave skin feeling silky smooth. The latest treatment for hair removal from Le Petit Spa, it produces lasting results.
Excess hair anxiety stretches back to ancient times. Today, it's estimated that 80 per cent of men and women between 16 and 60 remove face and body hair regularly. Still, the solution to effective and affordable hair removal has been elusive....until now.
What is LHE Hair Removal?
LHE hair removal treatment uses a unique combination of light and thermal energies to create lasting results by inhibiting future hair growth. The innovative technology provides an affordable and effective alternative to laser treatments.
LHE hair removal treatments uses low-level light and heat in carefully controlled settings. The treatment is usually complete after several sessions, resulting in smooth, beautiful skin that doesn't require contact shaving, waxing, or threading. Imagine not having to remember to buy razors or make that bi-weekly trip to the salon for a facial wax treatment. With LHE, you can get lasting results that are gentle on your skin, unlike other hair removal treatments.*
LHE hair removal does not require shaving but 1-3 millimetres of hair would be ideal. The light and heat energies are then adjusted to your skin type and condition. Plus, it works well with all skin colours - from very fair to dark skin tones - and hair types. Our technicians are highy trained, so rest at ease and enjoy. You may feel a sharp sting but you will get used to it in future treatments. Because LHE uses low fluence, there is no need for any skin cooling techniques or devices, making the process faster and less costly. Once the process is completed, the next treatment can be done 3-4 weeks later until the hair stops growing.*
LHE Hair Removal - Individual Treatment Prices
| Face/Neck | Price |
| --- | --- |
| Upper Lip | $55 |
| Chin | $55 |
| Side Burns | $55 |
| Neck | $88 |
| Full Face | $143 |
| Arms/Underarms | Price |
| Underarm | $55 |
| Forearm | $104 |
| Full Arm | $187 |
| Chest/Back/Shoulders | Price |
| Chest | $143 |
| Upper Back | $154 |
| Lower Back | $148 |
| Full Back | $291 |
| Full Back & Shoulders | $335 |
| Bikini | Price |
| Bikini Line | $104 |
| Brazilian | $154 |
| Legs | Price |
| Upper Legs | $269 |
| Lower Legs | $192 |
| Full Leg | $374 |
| Full Leg & Bikini | $533 |
Please talk with us about individual sessions or let our experts help you to put together a series of treatments (for greater savings) from our LHE hair removal plans. If you have never had an LHE Hair Removal with us, please contact us for Contact us for a complimentary consultation or book an appointment for your hair removal treatment. A consultation is required for qualification and test patch purposes. If there is no reaction after 24 hours, you may continue with LHE treatments.
Frequently Asked Questions
Q: What is L-H-E?
A: LHE stands for Light Heat Energy. LHE technology interacts in two different ways to transfer energy (light and thermal energy) by convection.
Q: How is LHE different from the IPL (Intense Pulsed Light) method?
A: By combing light and thermal energy, LHE has a lower light fluence, which means it reduces the intensity of heat exposure, making the technology safe and can result in no down time.
Q: Why is LHE considered the safest technology today?
A: Because LHE uses both light and thermal energy, the light fluence is lower than other technologies and therefore the treatment is safe as well as comfortable.
Q: Should I shave before my treatment?
A: It is best to have a stubble as this makes the skin less sensitive. It also allows the technician to better see and take care of the area to be treated.
Q: Will I see results right away?*
A: You will see immediate results and because there is no discomfort or burns you will be able to return to your daily activities immediately.
Q: Does LHE require the skin to be cooled?
A: No. LHE combines light and thermal energy. Thermal energy targets the hair follicle, not the skin. Therefore, the skin does not need to be cooled as there is no excess energy to be removed from the skin.
Q: Does the KONA hair removal treatment work well on dark skin?
A: Yes, the Kona treatment is also effective and safe for darker skin tones. All LHE systems have an optional hand piece especially for treating dark skin types V & VI.
Q: Is Kona approved for use in Canada?
A: Yes. Kona is licensed by Health Canada.
* Results may vary from person to person

Call us today with any questions or book an appointment!
Have a question? Want to book a hair removal appointment?
Give us a call at 604.224.4314 and we would be happy to help you out.