Relaxation Massage - Full Body Massage Vancouver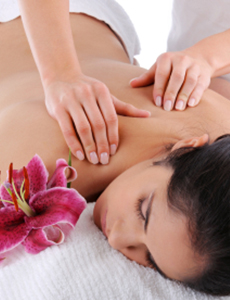 The Le Petit Spa Vancouver Relaxation Massage Treatment addresses a variety of health conditions, the most prevalent being stress-related tension. Everyone should have the opportunity to be treated to a massage.
It's time to focus on yourself, as you relax your body and mind and drift away, into our luxurious massage beds, to escape the stresses of daily life.
If you have tight muscles from athletics or if you simply want to treat yourself after a long day of work, we recommend frequent massage treatments. The relaxation massage can have profound benefits for both body and mind. It can increase focus and individual levels of concentration. Sometimes it is easy to get caught up in the hectic day to day of work, and responsibility.
When you take time out of your week to relax your mind and focus on physical relaxation, the mind will follow, taking a much-needed break as well. Many clients report being more aware and productive after their massage sessions, due to the deep levels of relaxation they have experienced.
Experts believe that stress accounts for the onset of 80%-90% of disease. Relaxation massage and bodywork offers a drug-free, non-invasive and humanistic approach based on the body's natural ability to heal itself.
Our relaxation massage is one of our most popular, signature massages. It features the ultimate blend of a personally tailored and tranquil experience. This is a full-body treatment that ranges from 30 minutes to 90 minutes, so you can choose a treatment style that fits your schedule and lifestyle.
You can also combine a massage with a variety of our other treatments as well, for a full day of spa relaxation. Our signature lavender massage oil will leave you feeling revitalized and refreshed, adding the essentials of aromatherapy to the treatment.
It is time to allow yourself to forget your tension and focus on the deep sense of wellness that the relaxation massage brings. Everyone's needs are individual, and that's why we offer a variety of different massages for our clients. Our relaxation massage is a classic choice, that will always leave you feeling deeply rejuvenated.
A Full Body Massage has many physiological effects, such as:
*Increasing circulation, allowing the body to pump more oxygen and nutrients into tissues and vital organs. When you are relaxed, you are able to breathe more deeply, filling your lungs to capacity. This, coupled with the benefits of massage will help to stimulate circulation, which has a healing effect on the body.
*Relaxing and softening injured and overused muscles. This is especially important for our clients who have experienced athletic injuries.
*Reducing muscle spasms and cramping.
*Reducing recovery time for strenuous workouts and eliminating subsequent pains of the athlete at any level.
*Relieving pain for migraine sufferers and decreasing the need for medication. Massages help loosen tension in the neck and shoulders. These muscles can contribute to migraines and severe headaches if left to cramp and tighten.
*Lowers the heart rate to a healthy, relaxed state. The heart is easily affected by stress and very often, it does not slow down, even at a resting state, due to thoughts of stress racing through our minds. Letting the body and mind relax with massage will decrease the heart rate, giving it a healthy break and introducing it to a more natural and healthy rhythm.
A Healthy Balance
Massage treatments have been used for centuries to relax and improve the health of patients. Many patients experience great benefits and can sometimes use massages to help treat *psychological, as well as *physical illnesses.
Massage has been known to effectively relieve symptoms of anxiety and depression, as well as physical ailments like lower back pain and muscle spasms. Whether you are looking to treat a loved one with peace and tranquility, or treat yourself to a much-needed procedure, massages can be performed on all types of patients.
Our registered therapists will listen to your needs and specialize the treatment to your desired style. The relaxation massage is the perfect option for both first-time spa goers and regulars alike. Everyone can benefit.
| Relaxation Massage Treatment | Price |
| --- | --- |
| 30 Minute Spa Massage | $70 |
| 45 Minute Spa Massage | $100 |
| 60 Minute Spa Massage | $120 |
| 75 Minute Spa Massage | $140 |
| 90 Minute Spa Massage | $150 |
| Couples Massage | 10% Off |
For the maximum soothing effect, relaxation massage treatments are done with the Le Petit Spa all natural signature lavender massage oil which is produced from the highest quality, locally sourced ingredients. Our expert team of massage therapists consists of female professionals trained to perform a highly efficient treatment customized for you. We do not have Registered Massage Therapists (RMTs) at our location and thus cannot provide insurance documents.
Call us now at 604.224.4314 or book your Le Petit Spa Vancouver massage treatment online.
* Results may vary from person to person