Hot Stone Massage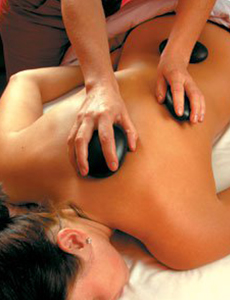 Our Hot Stone Massage is a unique and soothing experience you won't soon forget. The Le Petit Spa Hot Stone Massage will relax and renew your body. Surround yourself in warmth and savor the exotic comfort of this treatment as smooth lava stones, radiating heat, are applied to key points on your body.
Often times, people find our Hot Stone Massage to be more effective than a regular massage. It is meant to deeply relax tense tissues. The heat and pressure from the stones allow the therapist to deeply penetrate muscles. So have a seat on our luxurious massage beds and allow yourself to let go!
The Hot Stone Massage will help your muscles relax thoroughly through the process of heat therapy. In a traditional massage, muscles can remain tight, making it difficult for a masseuse to adequately relieve muscle pain. The heat from the hot stones, however, in an innovative and widely practiced method of using heat to target tightness.
This massage is a staff favorite and we highly recommend you try it. The pressure from the warm stones eases tense muscles, allowing them to loosen. This lets our massage therapists work deeper into your tissues. The warm stones resonate with your body, it is the perfect treatment, especially when the weather gets colder.
The Hot Stone Massage is also valued for the varied levels of pressure that are possible with the use of stones. The therapist can use them in their hands for a deeper tissue massage. The stones can add a steady pressure that is not always possible with just hand techniques alone. The therapist can also simply allow the stones to sit on the skin, gently warming and loosening muscles beneath. Whatever your pressure preference, Hot Stone Massages can accommodate everything.
Do Hot Stone Massages Hurt?
This may sound like an odd question, however, some of our customers hesitate to try the hot stone massage because they worry the stones are painful! It is important to us to let you know that rocks we use are smooth and lighter in weight because they are porous. They will not feel heavy and they are never rough.
The stones absorb heat due to their iron-rich makeup, but they will not be too hot. Our therapist keeps them at a steady temperature and they will never be warm enough to cause a burn. If your personal preference is to have the stones at a cooler temperature, let your therapist know so that they can make changes to fit your needs. The hot stone massage is purely meant to be a relaxing experience.
Did you know? Hot Stone Therapy Massage spa treatments address a variety of health conditions. The most prevalent being stress-related tension which, experts believe, can account for 80 - 90% of disease. Symptoms of stress-related discomfort can be physical, like upper and lower back pain, as well as psychological, emerging as insomnia or depression. The Hot Stone Massage relaxes both the body and the mind, so you can ease all manifestations of stress.
Hot Stone Massage treatments are an excellent alternative to suppressing the stress of daily life with pills or supplements. It offers a drug-free, non-invasive and humanistic approach to healing and rejuvenation, based on the body's natural ability to heal itself.
Ease your mind as you focus on the physical sensations of the warm, smooth stones resting and sliding over your pressure points. Give your body what it needs today, you deserve it. Frequent treatments are ideal and are the best, most holistic option when you are trying to reverse years of accumulated tension. Talk with our massage therapists to discuss our treatment packages and see how you can save, while taking a step towards living a more stress-free lifestyle.
A Hot Stone Massage isn't just for special occasions. It is essential to routinely care for, and treat your body. If you have been stressed or are just looking to relax, book a Hot Stone Massage today!
The Benefits of a Le Petit Spa Hot Stone Massage*:
Increases blood circulation, allowing the body to pump more oxygen and nutrients into tissues and vital organs.

Dissolves aches and pains attributed to stress

Relieves insomnia, depression, and pain, easing your mind

Relaxes you and relieves tension

Calms the nervous system
Hot Stone Massage Pricing, Costs and Deals
| Hot Stone Massage Treatment | Price |
| --- | --- |
| Hot Stone Massage - 75 minutes | $150 |
| Series of three Hot Stone Massage - SAVINGS of 10% | $405 |
| Series of six Hot Stone Massage - SAVINGS of 15% | $765 |
Get A Hot Stone Massage At Le Petit Spa in Vancouver
A hot stone massage at Le Petit Spa Vancouver is only performed by highly trained bodyworkers and therapists. They have been through intensive training to learn the skills and the specific needs of customers like you.
This is your chance to relax and destress. Our expert team of hot stone massage therapists consists of female professionals trained to perform treatments customized for you! We do not have Registered Massage Therapists (RMTs) at our location and thus cannot provide insurance documents.
Call us now at 604.224.4314 or book your Vancouver hot stone massage treatment online.
* Results may vary from person to person