Reflexology Treatment Vancouver
Rejuvenate your body with a Le Petit Spa Vancouver reflexology session. Its natural, non-invasive healing benefits involve applying gentle pressure to reflex points on the feet that correspond to specific parts of the body.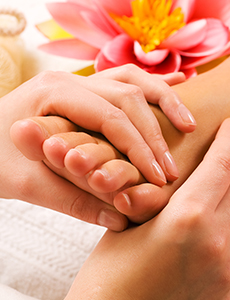 Suitable for all age groups, it's an ideal way to relax, de-stress and help the body rebalance itself. Reflexology treatments are performed by trained body and massage therapists. Reflexology and foot massage treatments can be performed in 30 to 45 minute sessions.
The Benefits of Le Petit Spa Vancouver Reflexology are*:
Reduction in stress
Pain Reduction in stiff areas of the body
Improved circulation resulting in an increase in oxygen levels and nutrients delivered throughout the body
Detoxification
Improved organ and gland function
Improved immunity to disease and sickness
Deep feeling of relaxation and well-being.
| Spa Reflexology Treatment | Price |
| --- | --- |
| Reflexology - 30 minutes | $35 |
Our expert team of foot massage therapists consists of female professionals trained to perform a highly efficient treatment customized for you. We do not have Registered Massage Therapists (RMTs) at our location and thus cannot provide insurance documents.
Call us now at 604.224.4314 or book your Vancouver reflexology treatment online.
* Results may vary from person to person