Bikini Waxing Vancouver, Hair Removal Services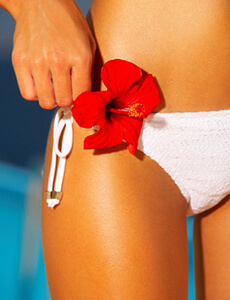 Our well trained estheticians each have more than 10 years of professional hair removal experience and undergo continuous training to keep up to date with the latest techniques.
Besides embracing the most advanced treatments we use warm wax specifically designed for delicate skin. This reduces any chances of skin irritation after the procedure.
We take pride in being one of Vancouver's best waxing salons and observe sanitary procedures beyond Health Canada's regulations.
To avoid cross contamination, we NEVER double dip and we provide an immaculate and comfortable retreat to guarantee you peace of mind.*
Bikini waxing hair removal treatments for women:
| Bikini Waxing Treatment | Price |
| --- | --- |
| Bikini (Regular) *women only | $30 |
| Bikini (French) *women only | $40 |
| Bikini (Brazilian) *women only | $60 |

For sensitive areas of the body, such as face, underarm and the bikini line, our signature lavender-infused wax provides the perfect treatment while a cream-based body wax works for more general treatments. Please call us now at 604.224.4314 or book your regular, French, or Brazilian bikini waxing treatment online.
To boost the efficiency of your bikini waxing treatment, prevent ingrown hair and enhance full and fast recovery we apply pre and post wax products such as Tea Tree Oil and PBF Vanish. You can also buy these products to use between spa visits.
* Results may vary from person to person