In addition, problematic issues like dry skin and irritated hair follicles in and around your facial hair can be helped with premium treatments. When you need extra care, come to the spa to relax, pamper your skin and bring balance to your body.
If you are interested in getting a spa treatment, you should know that you are in good company. More men than ever are heading over to the spa in order to get that well-deserved relaxation and to just feel good. Don't know where to start? Here are the top 5 best spa treatments that are great for men!
Getting any of these spa treatments will transform how you feel and sweep away the stresses of the day. As a man, you have many responsibilities and taking care of yourself often falls on the back burner.
Doing something that focuses just on you will help you devote time to yourself without thinking about all the other things you have to do at home and at work.
Facials
One of the best spa treatments to ease yourself into the whole experience is a facial. With the rise of beard care and post-shave, skin soothing products now is a great time to introduce your skin to the added benefits of a facial.
For beards with irritated hair follicles, the deep clean of a facial can help soothe the red bumps that come from clogged pores, roots and irritated skin.
For men whose shaved faces often experience bumps and rashes from their razors and shaving cream, a facial can help soothe the affected area and relieve pores from clogs and stress.
Your aesthetician can also recommend high-quality beard care and shaving products that will agree with your skin and make your face glow with health and confidence.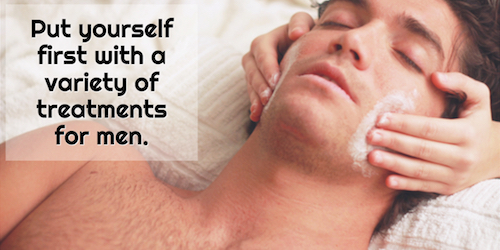 Saunas and Steam Rooms
Saunas, also called heat rooms, have been a mainstay in beauty treatments in the middle east, Scandinavia and other cultures for centuries. Staying in a hot room and forcing your skin to sweat out toxins not only has clarifying effects but has benefits for your health. It boosts your metabolism, helps with sports injuries, and also relieve stress.
Steam rooms open up nasal passages with warm steam. They are perfect for cleaning out sweat after a good sit in the sauna. Not only is the steam room a good way to follow up a sauna session, it can also be a nice way to unwind after a massage. Take your steam room treatment to the next level and apply mud on yourself to relieve your muscles and feel good. You can also ask your aesthetician to infuse the steam with select essential oils that will give your steam treatment the added benefit of aromatherapy.
Swedish Relaxation Massage
A massage is such a relaxing way to loosen stressed out muscles. Whether you spend all day at a desk job or need some TLC after a sports injury, a Swedish massage can help restore range of motion, and decrease pain in affected areas of your body.
Tense muscles from stress can be targeted specifically in order to improve your sleep and mental outlook on life.
Body and Foot Scrubs
When you get a full body scrub, you will smooth out all your rough edges and clear out pores in areas like your back that are hard-to-reach on your own. Sometimes a man's body can be prone to acne after sports and physical activity, but keeping your skin refreshed by removing the dead layer of skin and oil will help improve its appearance. An added bonus is that a full body scrub will make you look younger, and who doesn't want that? Choose between salt, sugar, coffee, pumice, and other exfoliants that ranging from gentle to intense exfoliation capabilities.
A foot scrub is another spa treatment that is excellent for both men and women. Our feet contain some of the roughest skin on our entire body and things can get quite callused down there without proper upkeep. Take a load off and get your feet scrubbed to remove dead skin and smooth out some rough patches. Following this treatment with a foot bath makes the experience even more unforgettable.
Hydrotherapy
Hydrotherapy blasts your body with pressurized water through underwater aqua-jets. This stimulating process helps tone your skin, open pores, improve your circulation, and can leave you feeling energized.
If you like being in a jetted hot tub, then hydrotherapy can combine the benefits of both aquatic relaxation and the results of a swedish massage.
Spa Treatments For Men
Are you ready to step into the spa and put yourself first? There are so many benefits from undergoing any of these spa treatments. They range from overall improvement of your looks to your emotional well-being.
If you have any questions about what other procedures we highly recommend to men, give us a call today and we will be happy to guide you through your next spa experience!