Accelerating the skin turnover process, this treatment also stimulates collagen production which contributes to a more youthful and elastic skin texture.
With your skin being the largest organ, why not extend this principle to the rest of your body? The "facial for your body" is called a full body scrub, and it should be no surprise that it has the same benefits as a facial.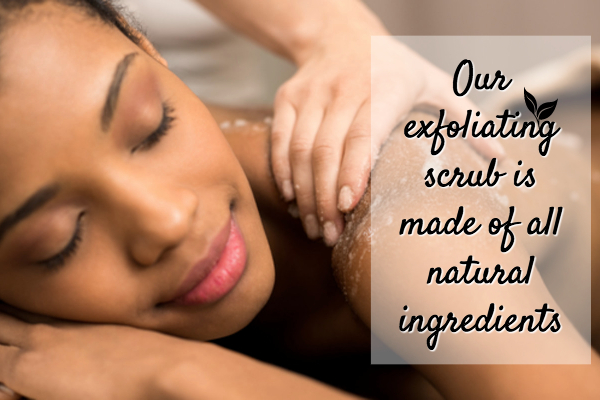 What can I expect during a body scrub?
Your body will be massaged after an abrasive product is rubbed into your skin, taking away the dull top layer. The exfoliating scrub can be made of natural ingredients like pecan hulls, sea salt, sugar, coffee, or rice.
You can also have your exfoliants scented with essential oils that have aromatherapeutic effects like chamomile and lavender for relaxation.
Others have topical benefits as well that remove toxins and promote healthy cell turnover. When you first arrive at the spa for your appointment, you will be offered a variety of scrubs. After you select the one you like, you will then undergo these 4 steps:
Strip down: Don't worry, you will have full privacy, can still wear underwear, and can cover yourself with a towel!

Get exfoliated: Your aesthetician will then come in the room and exfoliate your body by sections while the other areas are covered with your towel.

Get Rinsed- There will be some exfoliants left on your body, so your aesthetician will rinse you off with a Vichy shower.

Get Moisturized- When you are rinsed and dry, your body will be moisturized with lotion or oil. This will prolong the beautiful effects of the full body scrub.
You can enjoy a body scrub as a single spa treatment or include it in a spa package, combined with a facial or mani-pedi. Combining these treatments with a full body massage is also an incredible experience that is highly recommended, as it will further detox your body from stress and toxins that are in your muscles.
What are the benefits of the full body scrub?
Body scrubs come with many benefits. Here are just a few of the great effects they have on your skin and health:
Increased blood flow

Achieve a beautiful body complexion to match your facial

Aids the appearance of a spray tan by helping bronzing products stay on longer.

Helps your lotion and other skin treatments be more effective. Just like a facial will help beauty products better penetrate the skin, so does a body scrub help the rest of your skin benefit from topical skin nutrition.
What are the different types of body scrubs?
Having a body scrub is fun because you can get a different experience every time by selecting different treatments. At Le petit Spa we offer our signature lavender body scrub treatment. However, body scrubs can come in many different forms and styles.
The Sugar Body Scrub: This popular body scrub uses fragrant brown sugar or white granulated sugar combined with glycerin or oil to make an effective exfoliant paste. These scrubs are gentler than other scrubs and are perfect for sensitive skin or for those new to body exfoliation.

The Salt Body Scrub: This scrub gives your skin an exfoliating boost as well as a dose of natural minerals to make your skin shine, especially when you use mineral-rich Himalayan salt!

The Brightening Body Scrub: This type of scrub typically uses ground pumice stones and citrus oils like lemon or orange in order to brighten and exfoliate the skin.

The Nourishing/Herbal Scrub: Using the power of natural herbs, your therapy will not only include beautifying exfoliation but aromatic herbs that will relax and rejuvenate your body.

The Coffee Body Scrub: This scrub is designed to target unwanted cellulite, using coffee grinds to reduce cellulite formation and also redistribute existing cellulite. It is perfect as a companion to a weight loss and exercise program to boost your confidence and improve your progress. Combine it with aromatic oils like vanilla or chocolate to make this scrub even more delicious.

The Pre-Spray Tan Scrub: This exfoliation is designed specifically to prepare the body for a spray tan to make sure application is even and long-lasting by removing your top layer of dull skin.
Are you ready for a body scrub?
Getting a body scrub is an incredibly relaxing and pampering experience that will bring the beauty benefits of a facial to the rest of your body. If you are interested in finding out more about this therapeutic treatment or would like to schedule an appointment, contact us today.